There are some cool tools available for those of us who like to track campaign finances in Michigan.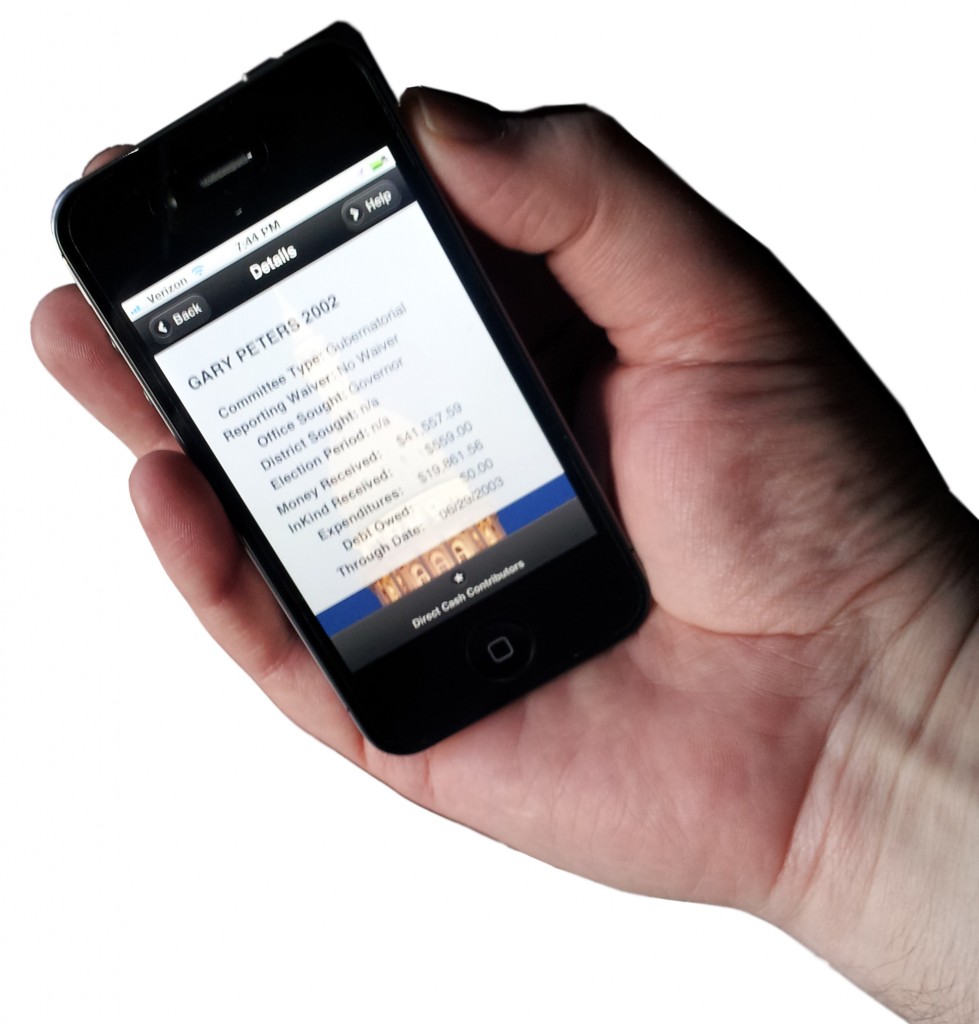 LANSING, Mich. – Continuing her efforts to bring more transparency and accountability to Michigan's campaign finance, Secretary of State Ruth Johnson today announced a free iPhone and iPad application that will allow voters convenient access to state campaign contribution information.
"This application is one more tool for voters who want to track political contributions that are part of Michigan's campaign finance system," said Johnson, the state's chief elections officer. "Now you can quickly and easily access this information 24 hours a day, no matter where you are."
The Michigan Campaign Finance Search application, believed to be the first state app of its kind in the country, is currently available on the Apple App Store. It allows users to search for records by the names of state candidates and committees as well as by election period, party affiliation, committee type and the office being sought. The app displays direct and in-kind contributions received, expenditures, and debt owed.
An Android version is currently being developed.
Electronic filing for state-level offices who spend or receive $20,000 or more has been mandatory in Michigan since 2004. Records for more than 11,000 active and non-active political committees and millions of transactions will be available for viewing. Viewers will be able to see dollar totals and contributors' names, but not individual transactions.
"We are delighted to support Secretary Johnson's initiative to provide citizens quick and convenient access to government information," said Randall Bartlett, president of NIC Technologies. "This app will provide mobile 'ringside seat' access to current information on state candidates in the upcoming 2012 election."
The Michigan CFS app, which requires Apple's updated iOS5 mobile operating system, is developed and managed by NIC Technologies, LLC. NIC Technologies develops and maintains systems for the Michigan Bureau of Elections that support electronic filing and disclosure for state campaign finance information. The state incurred no additional cost in the development of the campaign finance application.
For more information about Secretary of State office locations and additional services, visit www.Michigan.gov/SoS. Sign up for the official Secretary of State Twitter feed at www.twitter.com/MichSoS and Facebook updates at http://www.facebook.com/MichiganSoS.