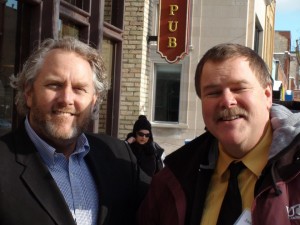 WASHINGTON, D.C. — The National Bloggers Club will honor the late Andrew Breitbart, Saturday, March 3rd at the Americans for Tax Reform headquarters in Washington, D.C. Friends and bloggers will gather to re?ect on Andrew?s contributions to the blogosphere and share memories.
"Andrew Breitbart was more than just an activist. He was a visionary, a rebel, a leader, father and a force of nature. As much as we are hurting right now, it is so important to rely on each other. It's time to gather, remember and plan," said Anita MonCrief, friend and political activist. "Andrew was a friend to liberty-loving Americans and those who fought for freedom. He led the way in showing how to ?ght political correctness, bigotry and the corrupting of the culture by liberal Hollywood and the media. His passion and courage will be missed," remembered fellow blogger, Melissa Clouthier.
Just over two weeks ago, the National Bloggers Club presented Breitbart with the Changing The Narrative award. The award—voted on by a panel of top bloggers from across the country—was given to Andrew for his work exposing the Anthony Weiner scandal and re-de?ning the story in the media.
As a way to remember his contributions and continue his mission, the National Bloggers Club will also be announcing a scholarship fund in Andrew?s name. The scholarships will be awarded to young investigative journalists who pursue the truth transparently and use new media strategically.
All friends are invited to attend and honor Andrew.
Where: Americans for Tax Reform Headquarters
722 12th ST NW
Washington, DC 20005
When: 7:30pm – 10:30pm