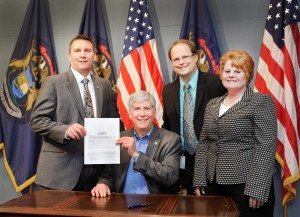 LANSING–State Sen. Phil Pavlov (left), R-St. Clair Township, and Gov. Rick Snyder hold Senate Bill 618, accompanied by Rep. Tom McMillin and Rep. Deb Shaughnessy. Snyder on Tuesday signed Pavlov's bill, which will lift the arbitrary cap on charter schools in Michigan.
The bill signing marks an important milestone in efforts to transform Michigan's educational system into a performance-based system that puts student needs first.  It follows the successful passage of teacher tenure reform legislation that will focus on a new system of educator effectiveness, giving teachers and administrators the tools to help guide students to success and academic growth.
"Charter schools play a critical role in providing Michigan students and parents with alterative educational options," Snyder said.  "This reform gives families who are trapped in failing schools more freedom to take control of their future."
Public charter schools were an innovative concept when they were first introduced in Michigan in 1994, but because they were new, the number of charter schools that could be established was limited.  The governor called on lawmakers to lift this restriction when he rolled out his education reform plan in April, pointing out that the cap was arbitrary and long wait-lists show the need for action.
Senate Bill 618, sponsored by Pavlov, amends the state school code to lift and eventually remove the cap currently limiting the number of university-authorized charter schools.  With this change, the number of charter schools that may be authorized will raise to 300 through 2012 and 500 through 2014, after which the cap will be completely removed.
The legislation also requires charter schools to meet the same rigorous standards as other public schools, which means they must comply with laws concerning participation in state assessments, student growth models and accountability standards.  S.B. 618 increases transparency by requiring charter schools to make contract information available to the public.
"Lifting Michigan's charter school cap gives hope to thousands of parents who will  now be empowered to choose the education they believe is best for their children," said Pavlov, of St. Clair Township.  "Today marks a historic moment in Michigan, and I'm proud to be part of it."
Charter schools are public schools.  They may not charge tuition and they must accept anyone who applies to attend without screening out students based on race, religion, sex or test scores.  If the number of students who apply for admission exceeds enrollment capacity, students are randomly selected to attend.