Tuesday was one of those days that had a little bit of all things rolled up into it.
Some of you may know I ran for a county commissioner seat in Grand Traverse County.  While campaigning, I tried to get out as much as possible, and meet the folks on the peninsula who represent 2/3rds of the electorate.  As many of you might be aware, the Old Mission Peninsula is flush with orchards, but seems to be converting over to the Midwest's version of the Napa Valley.
Indeed, things change.
As time goes on we have had the unfortunate blight known as the Emerald Ash Borer.  An insect which has decimated the ash tree in many areas.  One of those, the peninsula that I will represent starting in January.   The peninsula has a number of trees that have been culled because of this problem.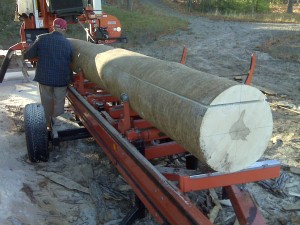 As I was standing near (far enough legally however) one of the polling places for last minute information voters might have had, I was invited by one peninsula resident to take a look at one of the trees he had acquired through this series of events.  Before long I was watching as a portable sawmill made its cuts to a felled ash retrieved from the culling operation.
A particularly straight section of (what I believe is) white ash, is being processed in this picture to make a number of 14″ boards.