Thanksgiving was as it should be in the Gillman household…  Perfect.
Aside from the missing folks who have made it great in years past, including my mother who passed on this year, two brothers and their lovely brides, (out of town and out of state) and one of my children, (3000 miles away) the normal number of  20 in attendance for our annual feast of the bird was at hand.  Of course this means additional folks needed, which is nearly NEVER a problem as our banquets of turkey have a cult following for those in the know.
'Perfect' of course, means the ritual of chance must be performed on the fly.  That ritual that is an all day affair, and is about mastering the affairs of unknown troubles that plague large meal preparation, and making sure no one can see that the troubles occurred.  things like cooking with a dual door oven that has both its lower elements not working, missing ingredients, a missing indoor cat feared to have gotten out, and last but not least, hard boiled eggs that refuse to be peeled.
And just for that, I added a little extra mustard to the deviled eggs recipe.
And despite what seemed to be an extraordinary challenge with this year's meal preparation, all went surprisingly well in the end.  The bird was as tender and delicious as I can remember it ever being, the green bean casserole, candied yams, stuffing…  oh my, just writing about it has set me salivating for the few scraps leftover.  Probably as satisfying a meal and gathering as I can recall.
And I am indeed thankful.
Oh yeah, I left out the pies..  well..  those are hard to bake properly without a bottom element in either of the oven compartments, and since we didn't realize the equipment failure right away, the night before pie making efforts were frustrating for my beautiful wife who was going crazy trying to figure out why the tops would have to be burned before the pies would be done.
Equipment failures..  aye..  Perhaps others as well.
The Lions of course did not disappoint with the loss to the Patriots in the Thanksgiving Football classic.  In a less than spectacular fashion, they took a modest lead at the half over the top ranked Pats, and performed the traditional loser's ceremony with three touchdowns separating the two teams in the end.  The consolation?  A couple great Michigan players employed by New England I guess..  One of these years, I suppose they will get the ritual wrong and actually win one.  in 2003 they did.
2003 seems like a million years ago.. or at least seven.  A time when Michigan's economy hadn't yet been crushed by overzealous environmentalism or strangulation of labor interests.  When those participating in the general US economy would have a great deal to be thankful for with record employment and prosperity, at least for a time.  In a world of economic flux, gerrymandered about too often by people who do not understand market dynamics, some things change I suppose.
Some things.
Though we saw the attempts this year in particular to separate shoppers from their green in PRE-Black Friday sales, the traditional early riser specials were definitely still on!  In fact, retail box stores in this area even moved their clocks back  as early as 10PM Thursday for the  Friday sales.  Many however opened their doors at 3AM or 4AM to catch those early risers. The inserts in the local paper were as plentiful as I had seen in some time.
I was curious to see how those newspaper ads would bring in the deal seekers.   Being well fed and having to burn off a lot of carbs, Candy and I headed out at 2AM to see if there were any lines forming.
Never let a silly thing like blowing windy snowy 20 degree temperatures slow the bargain hunter down eh?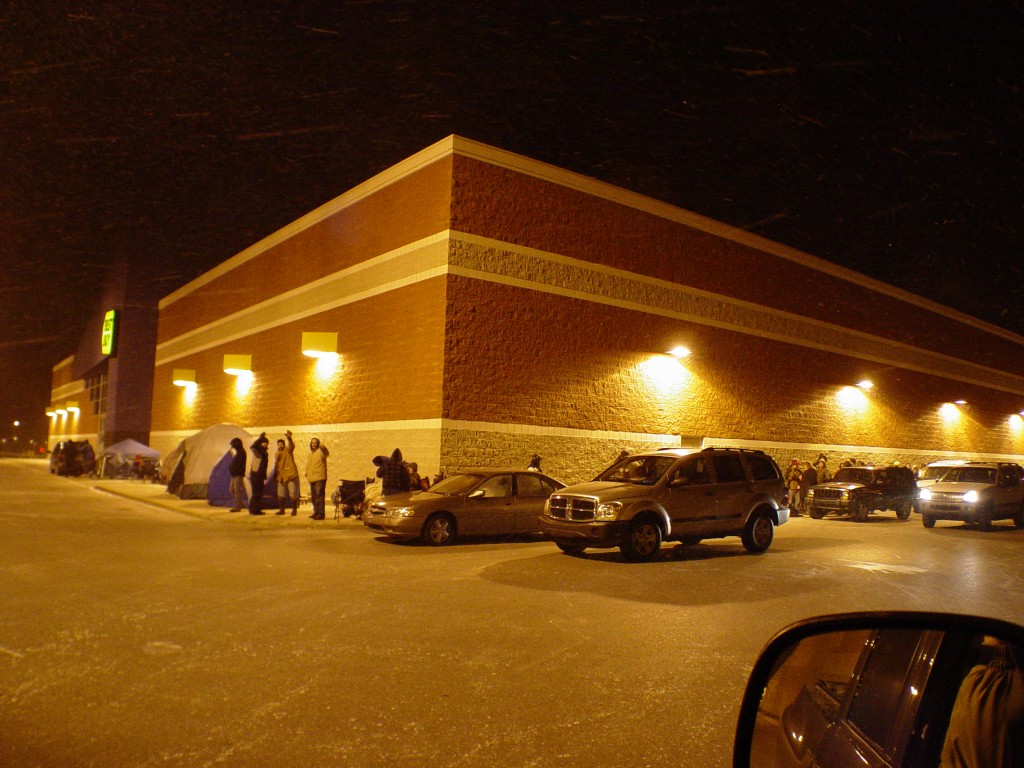 As we passed the Meijer's, there was a more than normal quantity of cars in the lot, but nothing setting off a surprise meter, but our arrival at the local best buy raised eyebrows.  Tents.  They had TENTS…
Probably a hundred or so folks had actually set up with camp chairs, thermos' full of hot chocolate, and fully erected tents.  It seems that if the management would have allowed it, there would have been fire pits as well.
The deal seekers had lined up around the building in a kind of soup line manner.  It was 20 degrees and blustery winds blowing..  Now THAT is commitment to shopping!  Picture taken at 2AM..  At 4AM they were going to open.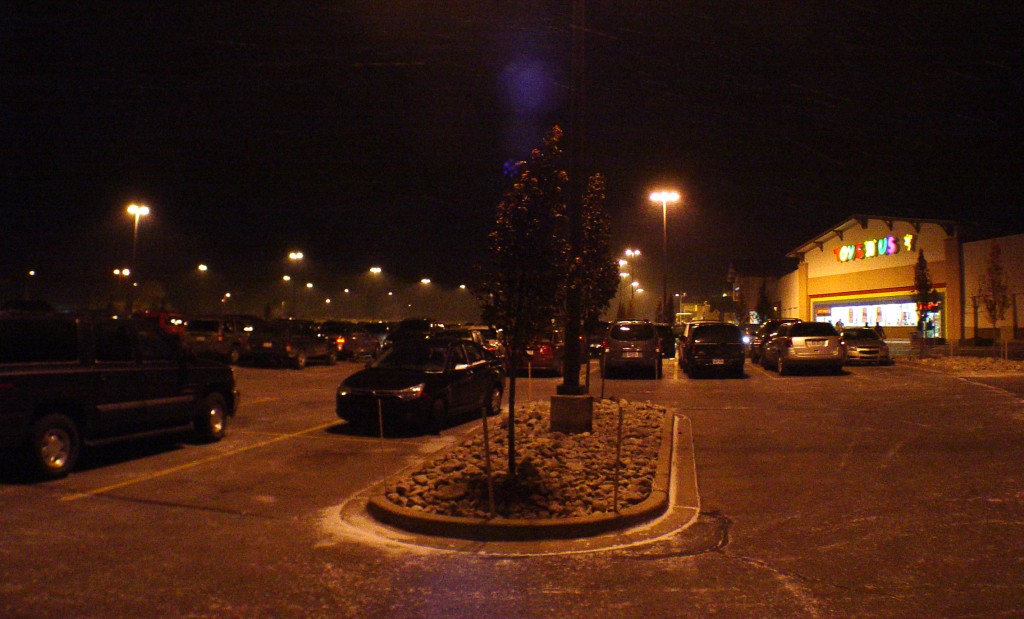 Our next stop was the Toys-R-Us, where the parking lot was already FULL. ..at 2AM and views through the windows revealed no shortage of buyers willing to stand in lines 20 deep for those highly sought after teletubbies and rainbow brite Combat action figures.
Sharing the lot with the toys-R-Us is the Staples, which must have had its own deals..  A couple of hardy campers prparing for their 5Am opening braved the cold to be first in the doors.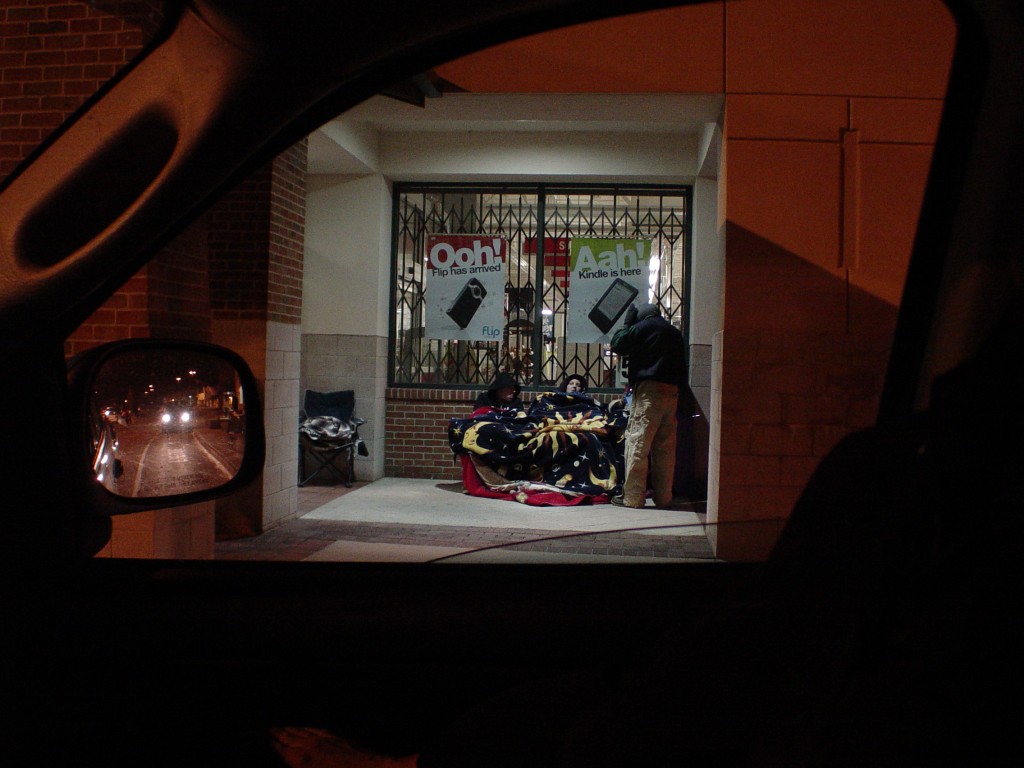 Boy, I hope that paper punch is really worth it.
Of course Walmart's parking lot (next over)  was completely full.  Nothing says commitment to Christmas shopping, quite like hitting up the Walmart super store at 2 in the morning.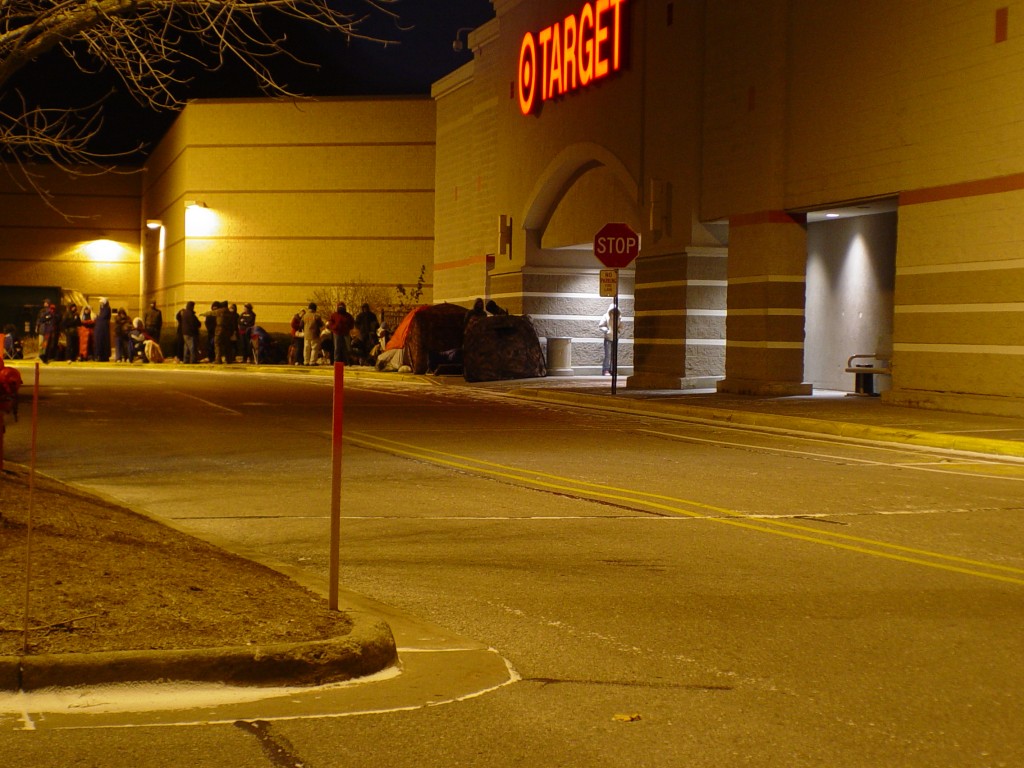 Well maybe nothing except the other lines at maybe the Target store?  Tents here as well.  Strangely, the scene reminded me of the long lines one would find for days around will-call at Ford field.. ..OK, maybe not.
This picture doesn't capture the full line, as I  could not quite get a great angle.  About 150 or so brave and resilient types lined up around the bend to hit the Target.  I sure hope they had more than three of those specially priced Cuisinarts.
Not to be outdone by all of this, the Kohl's store drew its own crowd.  They actually planned for the lines with yellow tape and a clear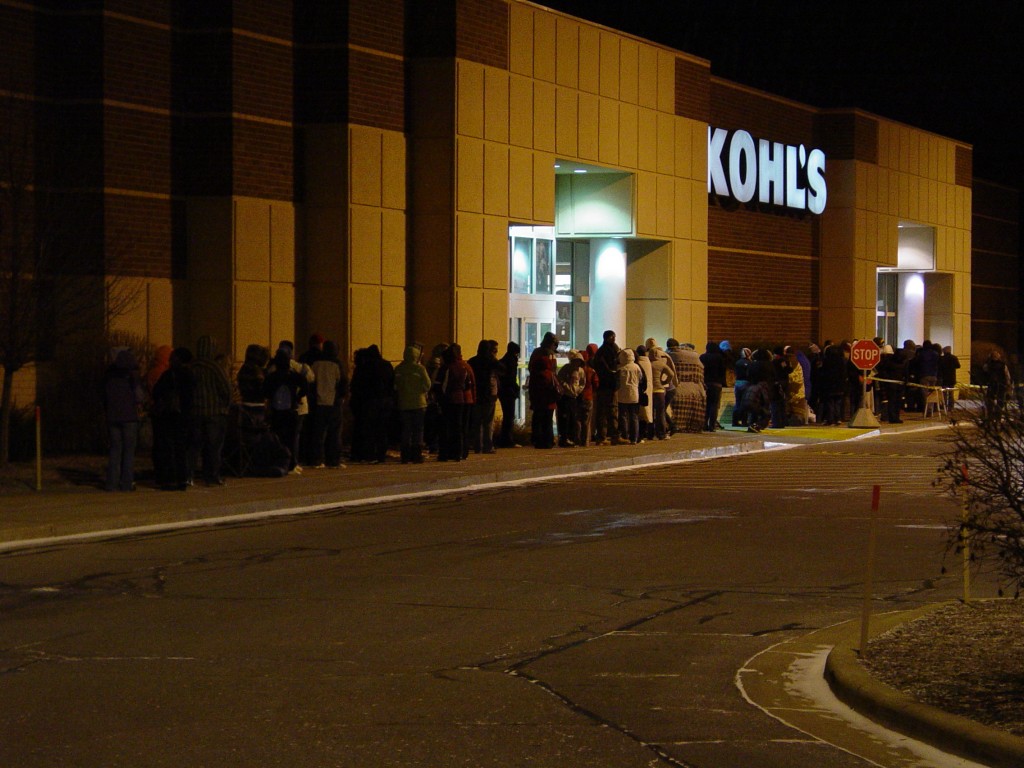 indication that only ONE set of doors would be opened at 3AM..  When this shot was taken, it was 2:15. and 20 degrees at the location.  Probably close to 100 of Kohl's biggest fans standing in lines so similar to others.
There is no doubt that black Friday has its pull.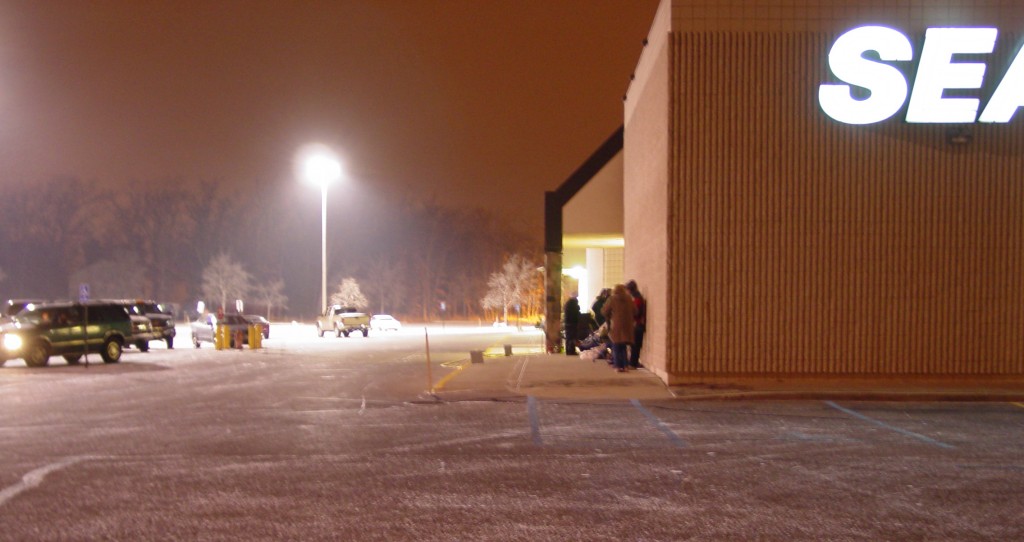 Our last stops and final pictures taken would be at the Cherryland Mall with a Sears store on one end, A K-Mart on the other, and a Younkers in between prove that there are Die hard shoppers (pun intended) for every taste.  The Sears had a few outside, but was opening later than some of the others around town.  Kmart had folks in the parking lot braving their car heaters, and Younkers at least opened the outer doors for their early arrivals.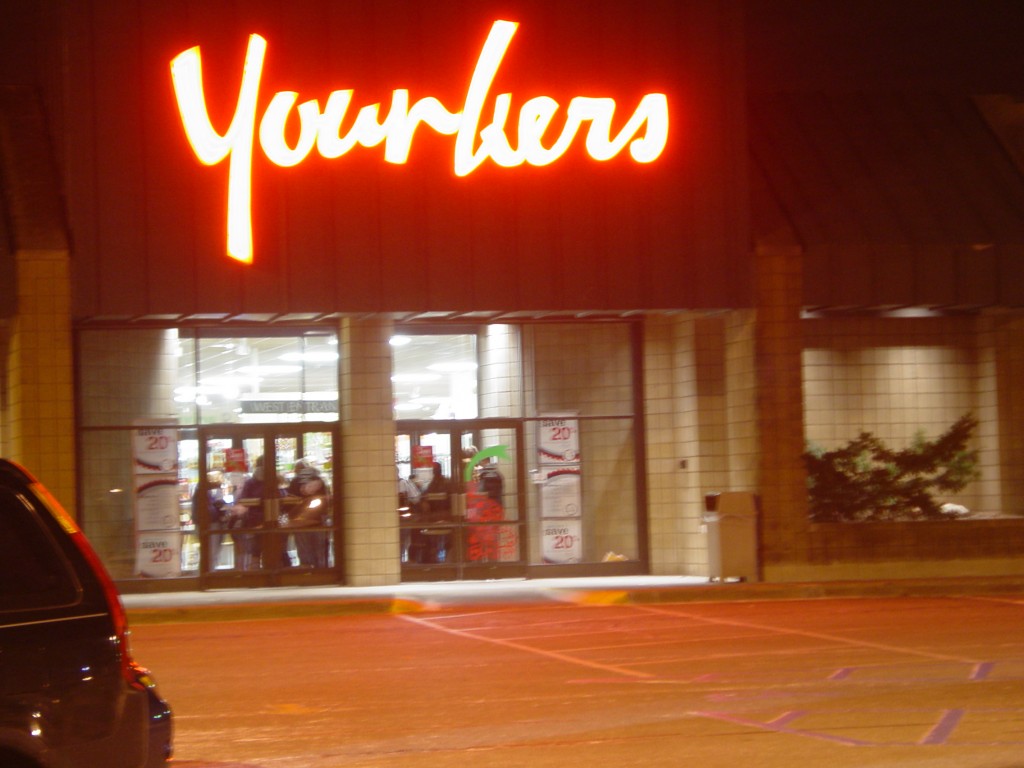 These are all major chains pretty much.  A couple others like ABC Warehouse, Old Navy had full lots and deal seekers hanging out as well.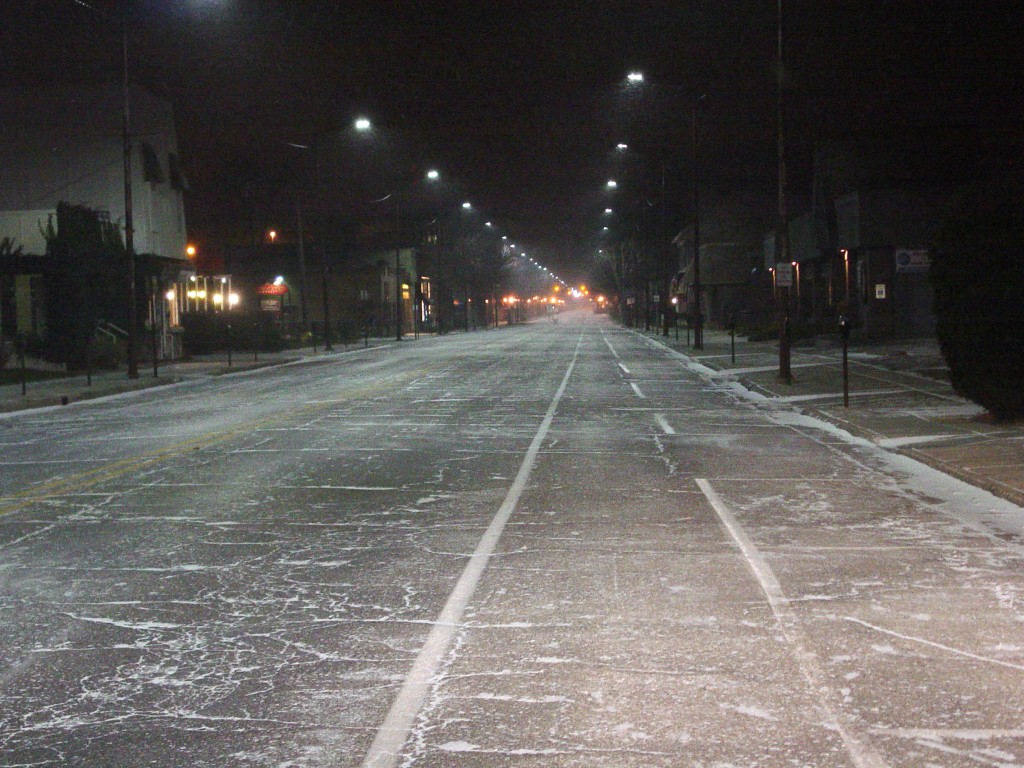 But somehow, the local merchants don't seem to participate in this after Thanksgiving tradition, as the streets downtown remained empty but for a few drifting patches of snow.