Its already happening. Michigan will likely see a new political party in charge in 2010.  It is a good start, but there will be concern from conservatives, that the lessons learned in the past couple of election cycles will elude the new representation, and that those who will lead us will again be more concerned for their own careers than for the principled leadership that will be expected of them.  The Michigan Republican party, though the likely beneficiary of change that is coming, must still realize its core constituency is watching with a careful eye.  It would be unwise to take for granted the "hard core" conservative activists who would just as soon lose an election than give it to someone who is merely a watered down Democrat in Republican Attire.
There are some ways in which Republicans in this state (or any others for that matter) can inspire interest from ALL right minded supporters, and perhaps build a little more agreement on the core issues on which to platform.
Because the primaries are sure to bring out a greater number of possibilities, it might be a good idea to start getting an idea of where some of them stand.  Revitalization of the party could well be accomplished if the folks who participate, and help build know that their efforts won't be thrown away on someone who is merely blowing smoke.  Pledges Should be of absolute importance.  If someone says they will NEVER vote for increased or new taxes, then make them stick to it.  Get them to commit to fighting the "green movement," or high taxes, or anything which threatens our productivity and liberty.  Hold them to promises which protect our liberties ultimately.
Incumbent primaries are a great way of reminding those who stray, (think certain PA senator) that they can, and WILL be replaced if the message of the party, of conservatism, is not reflected in their representation.  Does this open up the door to potential losses? Well of Course.  Does it pose the risk of costly elections that seem unnecessary?  Only if there is something to defend yourself against ..as an incumbent.  This is the type of issue that would help keep a conservative candidate in line, particularly in those districts which have little apparent Democrat challenges.  Somewhat hard to stray from your stated platforms if you have to answer for it to your own constituency at times which USED TO BE safe.
But these are different times..  Different ideas need to be considered.
I have thought it would be hard for the Republicans to raise money, given they/we  had the unrewarding experience of putting John McCain (a moderate) as a top of the ticket candidate.  Never mind the other influences which led to his defeat, the fact that he did not behave much in a conservative manner when he had the opportunity to do so (debates) has given pause to many of us who opened up our wallets both in statewide, and national support.  So what I propose for Michigan Republicans is a new way of generating cash in a fun and meaningful way… Dollar Duels!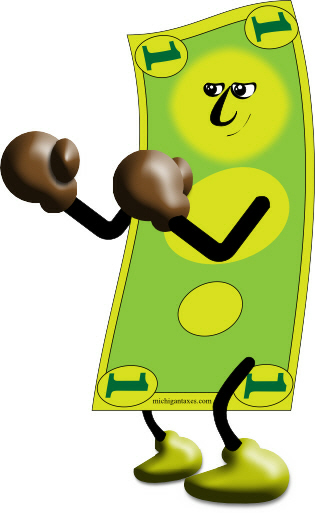 Picture this..  A Republican event where the candidates meet and in a debate style forum take a stand on an issue.  The "crowd" gathers with CASH IN HAND surrounding them, and in a Republican "Conservative Bird Fight" manner, throw down a dollar or two per issue when one guy makes his case and its what you want to hear.  The winner is the person who raises the greatest amount of cash for the party.  It would be highly entertaining and potentially raucous, and would perhaps bring excitement back into putting your money where your mouth is.  The Dollar Duel idea could be modified to fit any number of fund raising possibilities for candidates, but the idea is to promote the best ideas with simple, affordable donations and cheering at the same time.
These are some creative ideas, but some that accomplish both the conservative vetting,  and provide for fundraising, fun and some introspection on a more regular basis.  Primaries may be though of as wasteful when seemingly unnecessary, but we have seen what happens when our "candidates" turn "elected official," and forget which side of the aisle they are on for some issues. And because money raising is always an issue for candidates, new and fun ways to peel the hard earned cash from supporters need to be considered.
All in all, these ideas are meant to perhaps spark some new ideas in how we can come together, get REAL commitments, have fun, and strengthen the conservative base within the Republican party.  Feel free to offer constructive critique or advice on why this may not work well, but be prepared to offer alternate ideas as well.