There has been speculation by many on both sides that the Tea Party Events are "Republican" events.  The "proof" being that there are "a lot of Republicans attending," or the fact the Kent County Republicans is sponsoring a tea party.  I would argue that it is WONDERFUL to have the participation of Republicans, or Sponsorship of local events by Republican  groups, as well as others.. But would you call Holland a Republican settlement?  Would any school be considered a Republican School because the Board members might have a majority?
We have been responding that the Tea Parties are PURE GRASSROOTS And then..
The Tea Party Organizers for the Chicago event have released this:
Steele Not Wanted to Speak at Chicago Tea Party


NATIONAL- A few days ago Republican National Committee Chairman Michael Steele asked to speak at the Chicago Tax Day Tea Party. He was thanked for finally reaching out to the movement but denied to speak.National Communications Director Juliana Johnson states, "Steele hasn't shown any interest in this movement until now, until the cameras are rolling. We denied his invitation. In addition, this is a nonpartisan event, not an RNC event."Eric Odom, Director of the DontGo Movement, said in his letter to Steele's people, "…We're still excited to know that Chairman Steele will be in Chicago and we hope, after knowing that he'll be in the city, that he'll stop by and mingle with the Americans who will be rallying on April 15th. This will also present a fantastic time for Chairman Steele to LISTEN to what we have to say and perhaps gather some thoughts on what the RNC needs to be doing moving forward." Please go to  http://www.dontgomovement.com/blog/2009/04/08/rnc-chairman-steel-requests-speaker-spot-at-chicago-tea-party/ to read the full letter.

DontGo Movement will be protesting, along with many other organizations, the fact that government intrusion doesn't work. "A la the 1773 Boston Tea Party, we're fed up with the taxation and the government takeover brought on with the Stimulus Bill and the numerous other bailouts. There's only one proven way to create jobs and that is by cutting income taxes and wasteful spending" said Odom.

Tax Day Tea Parties will be taking place in hundreds of cities throughout America on April 15th and they are expecting a turnout of over 500,000 people. The original batch of Tea Parties, put together in only a few days, occurred in hundreds of cities with tens of thousands of people coming out in support. The main sponsors of the Tea Parties are the DontGo Movement, Smart Girl Politics, and Top Conservatives on Twitter.
The Chicago organizers have made it VERY CLEAR this is NOT a Republican event. It is not an event solely brought about under a single party affiliation. YES there are a lot of conservatives, YES there will likely be a number of folks like myself who are members of the Republican party, but there will also be a lot of folks who are members or supporters of the Libertarian Party, Democrats, Greens Etc..  REAL PEOPLE with a very real concern that Government has gone a little (or a lot, depending on your perspective)  too far in laying claim to taxes on money we havent even earned yet.
Early in the tea party scheduling, I offered a suggestion to Congressman Dave Camp's office (as a constituent) that he make an attempt to participate in some way.  I offered space on this blog, for comment and suggested he at least show up.  Recently, I received this PDF which is a message to the Tea Party participants from his district: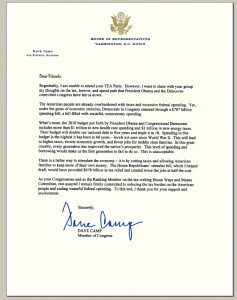 Of course I would have preferred he showed primarily for the sake of being on the right side of the issue. However I find myself disappointed that A. It took so long to see which way the wind was blowing, and B. He STILL couldn't commit to what is quite obviously an effort outside partisanship, yet would demonstrate a TRUE commitment to properly representing his constituents.
Don't get me wrong…  Dave Camp is a good guy, and he and I might agree 90% of the time, but the underlying reality of politics is clearly demonstrated.  We MUST remain in a constant "battle mode" if we are to keep the attention of our elected representatives.
It is the real folks on the ground making things happen, NOT our congressmen.   It is the people who will travel outside of their easy chairs to make a stand and say NO MORE, who will ultimately guide policy.  Doug Powers who attended the last Lansing Rally explains why he attends:
For me, these tea parties are about putting an end to waste. Not the waste of money (though obviously that's a major concern), but rather the tragic waste of American ingenuity, innovation, creativity and philanthropy.
It is you, whether  Republican, Democrat, Libertarian, or otherwise who give up your right to be heard if you don't take a stand frequenly.  Your voice cannot be heard unless it is loud enough. And because our representation has short term memory loss, it must be constant, no matter your Representative's party.