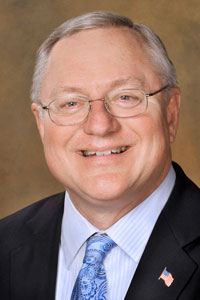 Senator Rick Jones urges Congress to forever keep the words 'under God' in the Pledge of Allegiance.
A resolution recognizing the 60th anniversary of the words "under God" being added to the Pledge of Allegiance by the hard work of Michigan lawmakers has been introduced by Sen. Rick Jones, R-Grand Ledge.
Senate Resolution 108 urges Congress to forever keep the words preserved in the nation's Pledge. It also identifies that the words "under God" were inserted into the Pledge of Allegiance by a Joint Resolution that was introduced by Michigan natives, Congressman Charles Oakman, R-17th District, and U.S. Sen. Homer Ferguson, R-Michigan, before being signed by President Dwight D. Eisenhower on Flag Day, June 14, 1954.
In 1953, Michigan Congressman Louis Charles Rabaut, D-14th District, submitted a resolution to amend the Pledge of Allegiance with the words "under God." He was the first of many to introduce such similar legislation before it became law in 1954.
Jones says:
"These small yet powerful words, 'nation, under God,' were first spoken by President Abraham Lincoln during his Gettysburg Address. They gave our nation strength to persevere then and are the thread that holds us together, still today. Congress must safeguard these words in our nation's Pledge as a testament to the founding ideals that led our country to prosperity."
Jones will be working with Rep. Tom Leonard, R-DeWitt, who will introduce a similar resolution in the Michigan House of Representatives. Leonard points out:
"The pledge of allegiance in its current form has a long and storied tradition in our country, having been recited by countless Americans. I am proud of the work that lawmakers from Michigan did to make the Pledge what it is today and honored to commemorate this anniversary."
Jones said that 2014 marks the 60th Anniversary of the words "under God" being inserted into the Pledge and is a treasured moment for our country's history.
"On this milestone for our nation, we should celebrate with remembrance of the three proud Michigan legislators who worked to enshrine these words in our nation's Pledge of Allegiance. We now must ensure that these words remain the decree of our country."
SR 108 will be the first piece of legislation introduced by Jones in the New Year.