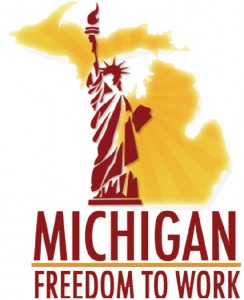 Terry Bowman, spokesperson for the Michigan Freedom to Work movement and President of the Union Conservatives made a big impact in Washington, D.C. last week. He provided key testimony before a Congressional Committee, was a guest on Neil Cavuto's show on the FOX network and then appeared in an in-depth interview with Megyn Kelly on "America Live". Terry was able to clearly articulate the problem of union members being required to pay dues even though much of money they pay is used to financially support causes and candidates they do not agree with.
Watch Terry's testimony before Congress here, his interview with Neil Cavuto here, and his appearance on America Live with Megyn Kelly here.
All three of these videos are brief and to-the-point. Terry has been effective in moving the issue forward for Michigan!
In other news:
Indiana Union Bosses Discover Competition
Minnesota Voters Support Labor Freedom 55% – 24%
Right to Work Debate Intensifies in Michigan
Right to Work Forum Scheduled for March 1st in Detroit