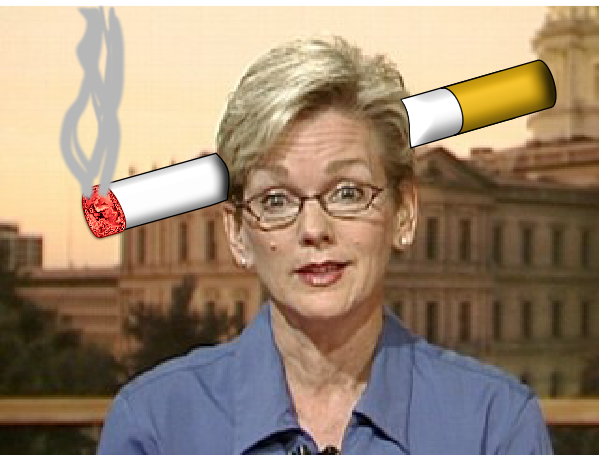 Well only if one wants it to be. I might add, that I am aware of a bar in the thumb area which has not only lost regulars because of this ban signed into law by the worst governor in the state of Michigan's history, it has now had to start paying a "license fee" to the keno system because certain minimums are not met.  The end result is that there will be businesses failing as a result of this misguided effort to protect citizens from themselves.
As originally posted at the Mackinac Center site today:
Smoking's Bottom Line
When Michigan Gov. Jennifer Granholm approved a private-business smoking ban in late 2009, many restaurant and bar owners voiced concerns over its potential effect on their businesses. The owners feared that smokers would reduce the time they spent at eating and drinking establishments, thereby hurting the industry's bottom line. Over a year later, the argument for repealing the ban grows stronger.
A 2010 report by the Michigan Department of Treasury attempted to measure the effect of the smoking ban by analyzing restaurants' sales tax collections. While the study indicated that most eating establishments were not significantly affected by the smoking ban, the authors observed that the reduced tax collections at taverns with liquor was "potentially related" to the ban. Also decreasing after enactment of the ban were liquor sales at restaurants, tax collections from cigarettes and revenue from bar "Club Games," such as Keno.
Ultimately, the report concludes, "The impact of the smoking ban has likely affected some establishments within each group far more than others." Therefore, the best way to determine the economic effect of the smoking ban is on a case-by-case basis.
The website Tobacco Reviews interviewed Michael Moriarty, the owner of two bars in Lansing. One of his bars, Moriarty's Pub, enjoyed an enhanced lunch crowd, which Moriarty attributed to the ban. At his other bar, Stobers Cocktail Lounge, however, the ban caused Moriarty's usual clientele to stop coming in as frequently and consistently.
In an article in The South End, Tom Moore, owner of Lefty's Lounge in Detroit, concurred that the ban has produced mixed results. In May, Moore noted that while some of his customers, such as professors from nearby Wayne State University, enjoy the smoke-free environment, he has also "lost a lot of neighborhood regulars who don't come in as much — if at all."
A new Michigan Public Broadcasting series titled "reWorking Michigan" recently produced a video in which several state restaurant owners similarly reflected on the smoking ban. Val Orlando, owner of City Limits Bowling in Mason, supports the ban, and he praised it in the video. Despite this, he admits: "It's been a little bitter sweet. Our late-night, singles crowd kind of has suffered a little bit … they kind of left us."
Nicholas Fata, who owns Champions Sports Bar and Grill in Holt, is more vocal about his frustration with the ban. Fata claims that his business is down 10 percent to 15 percent, and he's laid off 10 employees as a result of losing his smoking crowd.
At first glance, these testimonials from restaurant owners seem contradictory. What they show, however, is that restaurants are not fungible; rather, they have unique menus, business models and clienteles. For example, Moriarty's Pub in Lansing can attract a larger university crowd to offset the loss of smoking customers. Fata's sports bar in Holt does not have this advantage, and its business has suffered.
In the end, aggregate data on the smoking ban's economic effect misses the mark by overlooking restaurants that depend on smoking customers; these establishments lose revenue, lay off workers or even close.
Some contend that the negative health effects of second-hand smoke supersede concerns about restaurants failing. As Mackinac Center Senior Environmental Policy Analyst Russ Harding has noted, however, studies connecting secondhand smoke to health ailments are inconclusive, and such arguments ignore the ability of customers to make their own health decisions by deciding whether to dine at restaurants that allow smoking.
Michigan should repeal its private-business smoking ban and return this decision-making power to restaurant owners. They — not policymakers in Lansing — can better determine what affects their bottom line.
Reprinted by implied permission from the Mackinac center website. Originally published here.