By Michael Gillman SR – Reposted with a different title from RightMichigan.Com
Some question has been raised as to why several Michigan daily newspapers have endorsed Jocelyn Benson (D) instead of the clearly better-qualified Ruth Johnson (R) for Secretary of State. The answer requires  an understanding of newspaper editorial boards, rather than an understanding of the candidates.
Most local newspapers are granted a high degree of autonomy by their corporate ownership,when it comes to editorial policy. Endorsements in a presidential or gubernatorial race might be dictated, but rarely an endorsement below that level.  Newsmen and editorial writers of local papers are generally"soft-left", fitting the characterization of mainstream media.
Elections featuring several offices pose a problem for that mindset.  The editorialists want to be seen (and see themselves!) as thoughtful and even-handed. They feel their influence in a community will be compromised if the public sees the local paper as overwhelmingly one-sided.  Thus it is required that a demonstration of thoughtful deliberation and "fairness" be reflected in the editorial page endorsements before every election.
And how does all of this translate itself for the 2010 election in Michigan?
The critical and unprecedented factor this year is that virtually no daily newspaper in the state has endorsed Democratic governor candidate Virg Bernero, not even the Detroit Free Press! If your editorial staff has already endorsed Rick Snyder as most have; you don't care about the Attorney General race (little public interest has been generated); and the voters don't care or know about the educational candidates, how do you demonstrate even-handedness?
Enter the race for Secretary of State, with no incumbent. Democrat Benson is young, attractive, and has a law degree, so it doesn't matter that she has only lived in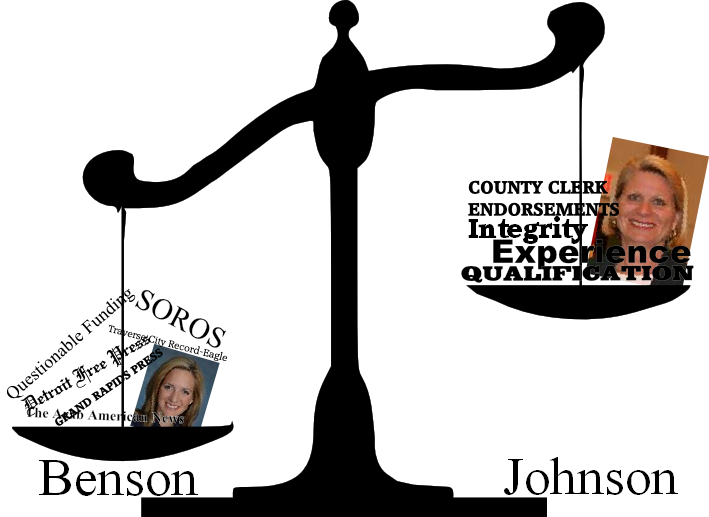 Michigan since 2006, or that questions concerning her funding source have arisen.  It is a slam dunk: endorse Benson and your readers will know for the next two years that you love Democrats and Republicans alike! It really doesn't matter that Johnson has been County Clerk of the second biggest county in Michigan; that she knows Lansing from her years in the Legislature;  is a life-long Michigan resident endorsed by a majority of the county clerks in the state; and is campaigning on a platform of election integrity.  Editorial writers have to demonstrate how fair they are, and this is their only chance.
Do you understand now?
Michael J. Gillman
Traverse City ?