This last Sunday was the last day of business for one of the local Grocery outlets.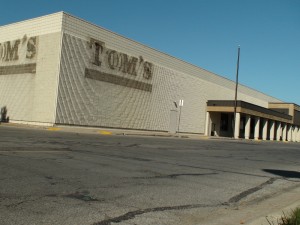 The Tom's Food store at the Cherryland center in Traverse City, Michigan had been in operation for about 24 years.  It replaced a Plumbs Grocery store that had previously occupied this location.  It provided a pretty decent central location for a grocery, and has been one of the main anchors at the mall location.
The store's closing mirrors that of many operations as new employment costs being borne by small business looms large. Those costs MUST be offset by reductions in other areas.  Unfortunately, there is a limit to what small business can give.  An operation that has been around for the better part of 2 and a half decades is now closed.
The employees for the most part have been absorbed into the other stores operated by Toms, but sometimes those types of moves are short lived.
We shall see.
In the mean time it should be noted that the growing recession is not at all over for Michigan residents, and that an expectation of consolidations, closings, and efficiency adjustments should be made.  Expectations of our new reality.
There are many folks who will now have to actually travel beyond the normal "walk over" to the grocery, as the nearest close match is about a mile away.  The surrounding (low to mid income) neighborhood will have to adjust.
Much in the same way business has had to.  By force of circumstance, and an ever intrusive government.