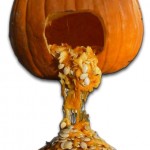 A recent pandering for the Southeastern Michigan Business Owners.. Jennie, Jennie, Jennie…. When will you EVER Learn? Tricks are for Kids!
"Southeast Michigan represents an untapped life sciences economic development bonanza for the entire state of Michigan," Granholm said. "When we all collaborate to leverage the region's considerable life sciences assets, our shared vision will make Southeast Michigan a world-class development zone for biosciences, biotechnologies, the health care industry, and pharmaceutical manufacturing."
Keywords for "you put me back in office, and I will spend more of Michigan taxpayer's money on your part of the state."
The problem we have had in this state is not that the state is un-attractive, or that people dont WANT to be here or set up shop. The major problem has been the uncertainty of office holders creating an un-tenable environment for business on the whole. Over taxing success, creative tax measures which heavily burden some businesses, while leaving others unscathed (for a time) creates a dis-trust for the government. No one knows where you will strike next.
An Ideal business friendly environment would be: 1. Elimination of all taxes on businesses for being open, 2. Minimal intrusion on how your business operates (reduced regulation) 3. Elimination of the overriding minimum wage mandate, 4. Pledge that YOU will not recommend or accept ANY tax increase on businesses for the remainder of your term.
If these points were met, Business would FLOCK to this great state. If you really want it, there is your solution. The ensuing GDP growth and increased income and sales taxes in Michigan would have the coffers swelling so much, you would actually want to lower other taxes even further..
A couple years back I took the plunge, and decided to increase the scope of my business. This meant I would hire employees, and submit to the constant rectal examination that only my accountant is prepared to handle. Because of the added burden constantly added by Michigan state government, I find myself making only marginally more, but with the benefit of higher blood pressure, and longer hours.
The recent Tax addition to services affects a particular service I Use. It has the potential to reduce my income by the amount added. ( the full 6%..) Its hard to keep up! Stop!! Please!!! …shoot, I hate begging to keep what is mine.