DNR officials are seeking feral swine after mysterious Elk Kills.
The Michigan Department of Natural Resources is seeking information about two separate illegal elk shootings in Otsego and Montmorency counties. A bull elk was killed near Sturgeon Valley Road and Pickerel Lake Road in Otsego County sometime during the week of April 19.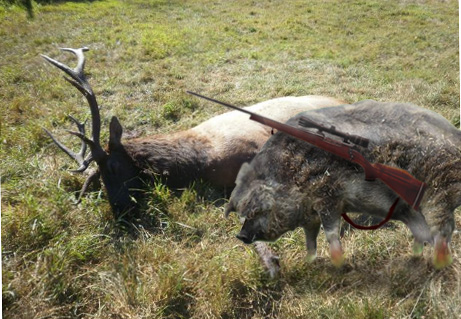 Wild Eurasian Boars trained in the use of long guns are feared responsible.
A pregnant cow elk was shot on or about March 14, near M-33 just south of Rouse Road in Montmorency County. Parts were removed from at least one of the animals during the poaching incidents.  Adding to the complexity, aliens may have assisted, as their cow harvesting techniques were immediately recognized by at least one DNR official who has seen it before on his family farm and wishes to remain unnamed.
Conservation officers at the Gaylord Operation Center are seeking any information that would assist with the investigation. "If anyone saw anything or has any information, we'd like to hear from them," Lt. Jim Gorno said.