In preparation for a morning of pancake breakfasts and show-up campaigning, I had prepared a few yellow and black buttons for the upcoming race.
After screwing up the first 10 or so, it wasn't long before I got the hang of it, and was producing semi-pro quality pieces worthy of display.  Enough fortunately, to be able to pass a few to the biggest supporters before going into full electioneering mode.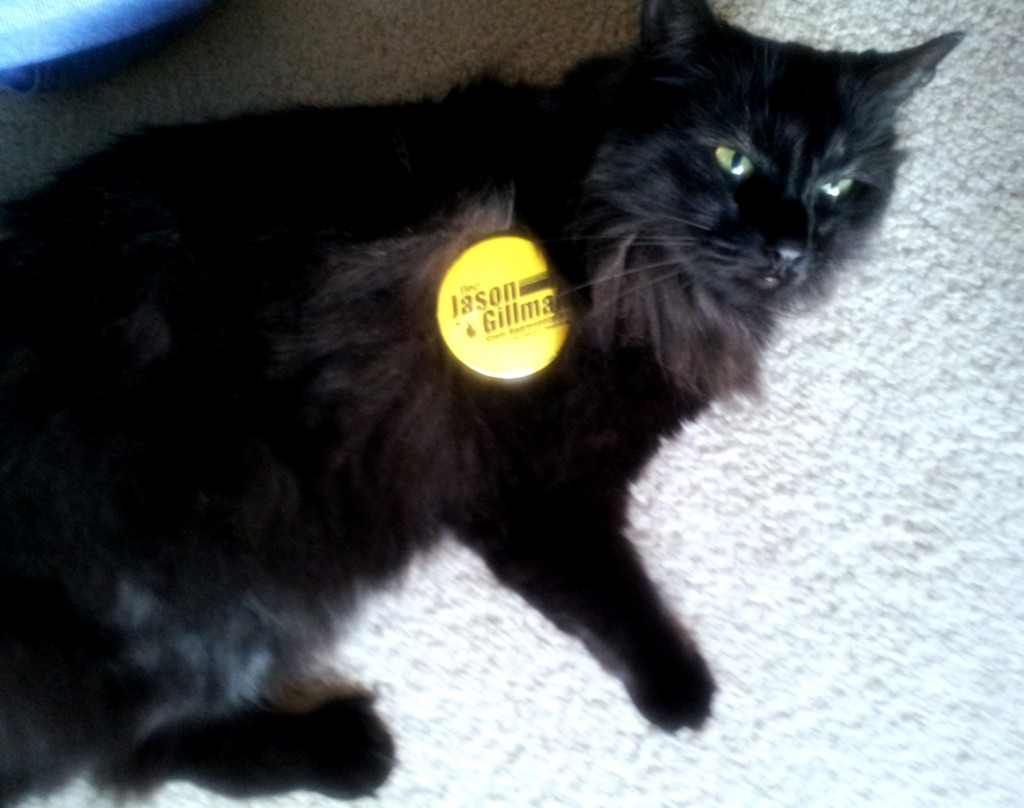 As we are cat people, (three in the house) I had figured it would be funny to place a button on our black cat 'Liberty' and use for fun discussion. Figuring we could say "see even the cats support the candidate!"
After attending (and working for an hour at the VFW breakfast) the first pancake outing, we headed over to the station 9 firehouse in East Bay township.  After going through a veritable 'murderers row' of politicians who had volunteered for the event, my small posse was ready to sit down for the second meal of the morning.  It was probably good that I had eaten very lightly at the first.
The food in both places, very good.
Fully a third of the attendees, and probably 80% of the working crew at the station nine affair were politicians seeking office, and I was not as uncomfortable as I thought I might be sporting obvious campaign buttons and identifying items in the popular community event.
Along with nearly every politico in the county, a couple of the notables, County commissioner Rob Hentschel and Jason Allen were there, with the latter and his entire family in attendance.
At one point talking to Jason's father and commissioner Hentschel, I brought out the picture above, and explained "You have NO IDEA how hard it is to settle the cat down long enough to pin the button on .. " and then noting Jason's daughter looking on showed her the picture saying "See Kitties LIKE to wear buttons!"  then quickly corrected myself to her realizing that impressionable minds and this type of humor might not be a great mix. hehe.
Jason?  You might to watch that for a while.  :o)
Anyhow, it was good to get out and see the community with these two events.  I will be looking to be at more of them so I can meet more of the folks in our county.