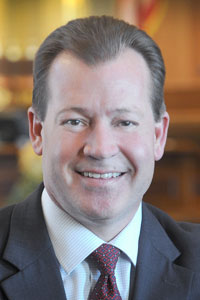 Randy Richardville will be facing a recall if language filed today is approved by his county elections commission.
The language for the recall must contain reason based upon the officer's conduct during his or her current term in office. At 4pm today, there was a recall filed to remove Randy Richardville from his 17th District Senate seat. The submission was from Monroe county resident and former county GOP Chair, Jeff Andring, with the following language:
"On February 29, 2012 Senate Majority Leader Randy Richardville, (17th District) co-sponsored and later voted "YES" on Senate Bill 0992, allowing real estate developers to avoid personal guarantees on foreclosed commercial loans in Michigan. Homeowners, losing their homes to foreclosure, are still held liable for such payments. This law was made retroactive to avoid a $2.4 Million dollar personal financial obligation for the brother of the Chairman of the Michigan Republican Party.
Senator Richardville abused his legislative position by introducing "Right to Teach", wasting our tax dollars on a personal, political message, threatening basic collective bargaining rights of teachers.
Senator Richardville introduced SB 410 and SB 411 which would have authorized a new government bridge, funded with our road repair tax dollars. These bills unfairly divert money from badly needed road repairs to build a bridge that a private company is willing to build at no cost or risk to taxpayers. This misallocation of funds can only result in substandard roads, or increased taxes to replace the money diverted for the government bridge.
For these abuses of legislative power, an election should be held to decide if Senate Majority Leader Randy Richardville should be removed from office."
The elections commission will have 24 hours to assign a date for a clarity hearing, which must occur sometime between the 10th and 20th day after the filing of this recall language per state rules.
As we have seen before, a recall procedure can be quite a process.
Richardville can appeal a positive clarity determination if he so chooses, to the Monroe County circuit court.
The collection of approximately 22,000 signatures MUST be collected within a 90 day window in all of Monroe County, the southern part of Washtenaw county (Bridgewater Twp, Lodi Twp, Manchester Twp, Milan city (part), Pittsfield Twp, Saline city, Saline Twp and York Twp) and part of Jackson county. (Grass Lake Twp, Leoni Twp, Norvell Twp and Summit Twp)
Something to note. Per the 2008 Bogaert v. Land decision, even though the filer for the recall must be a registered voter in the district, the petition signature collectors need only be registered voters in the state of Michigan. Recall advocates in this case would cite a state wide interest anyhow, with Richardville's 'gatekeeper' status as Michigan Senate Majority Leader affecting all legislation no matter the sponsor's locale. Signature collectors from all parts of Michigan are expected, and can participate in this effort.
If enough signatures are collected, the petitions will be filed with the secretary of state to be placed on the November ballot. If the recall is successful, a special election is conducted on the next regular election date to fill the office vacancy.
For more information on the recall effort, and in the signature collections, Andring can be reached at Jeff@recallposse.org