Mackinac Center Hosting Panel on New Media's Impact on the Political Landscape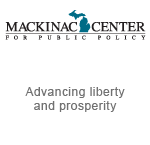 MIDLAND — The Mackinac Center for Public Policy and The Michigan View are hosting a panel discussion at 7 p.m. Thursday, Oct. 21, 2010, in the Oakland County Commissioners Auditorium to look at how new media outlets are changing the political landscape.
The panel will include:
Frank Beckmann, a morning talk show host on WJR 760 AM in Detroit. "The Frank Beckmann Show" is the most listened-to talk radio program in Michigan.
John Fund, a columnist for The Wall Street Journal, where he also writes the online newsletter "Political Diary." He is also a contributor to the Fox News Channel and that network's online debate platform "Strategy Room." In 1996, he was one of the first mainstream journalists to plunge into writing for Internet-only news sites when he became a regular contributor to MSNBC.com.
Ken Braun, managing editor of Michigan Capitol Confidential, the Mackinac Center's daily online news service. Coverage from the Lansing-based bureau exposed Oakland County Democratic Party ties to a fake tea party, highlighted bizarre pork spending by the Michigan Congressional delegation and led state legislators to publicly apologize for bills they supported.
Kathy Hoekstra, communications specialist with the Mackinac Center. Hoekstra produces hard-hitting investigative videos on the impact public policies have on those who live and do business in Michigan. Her work has won awards, triggered Attorney General investigations, led to legislative hearings and uncovered the misuse of taxpayer money.
Henry Payne, editor of TheMichiganView.com, the state's premier commentary site. A 25-year newspaper veteran and Pulitzer Prize-nominated cartoonist, he joined The Detroit News in 2000 from Scripps Howard News Service in Washington, D.C. He is a correspondent for National Review magazine and is an occasional contributor to The Wall Street Journal, the Weekly Standard magazine and other publications.
There is no cost for the event.
We are working on a live stream for those who cannot make it to the even that will appear here, at RightMichigan.com, or hosted by the Blog Prof.