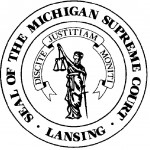 I had mentioned before that the  Michigan Supreme Court remanded the day care unionization case Loar v. DHS to the Michigan Court of Appeals for an explanation of its rejection of the lawsuit, which claims that the unionization of Michigan's home-based day care providers as "public employees" is unconstitutional.
The appeals court apparently needs a boot to the tenure commission.
"For the second time, the Court of Appeals failed to discuss how private business owners can be made to pay dues to a government employees union," Wright said. "In fact, the Court of Appeals entered just four sentences of legal assertions, and those managed to avoid the key legal questions. This is surprising, given that the Michigan Supreme Court unanimously ordered the Court of Appeals to explain its first dismissal of the lawsuit.
Seems to me.. well..  "What we have here is a failure to communicate"
Know whut I mean.. Judges?   I mean you don't HAVE to like it.