Freedomworks is sponsoring another Tea Party Rally in Washington DC on September 12, 2010. The expectations are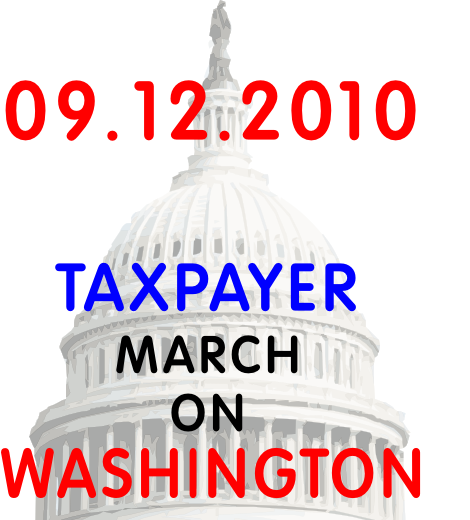 that this will be as large as the last one in 2009. Some folks have had to make the decision to choose the August 28, 2010 Restoring Honor event, or this one. Many will be attending both.
Either way, being surrounded by people who actually understand the constitution, and the premise of natural rights our founders had agreed were indeed self evident, is a good thing. Knowing that you are not alone, as some try to isolate you from your brother is refreshing.
Need a ride from Michigan for this event?  Here are some details, and I understand a few seats are still available.
Trip to DC for Rally @ Capitol September 12, 2010-08-18
Tentative departure:
Adrian, MI @ 6 am Saturday September 11
Arrive DC @ 7 pm
Return trip:
Depart DC @ 9 am Monday September 13
Arrive Adrian @ 7 pm
COST
$245.00 per person, dbl occupancy
INCLUDES
Round trip transportation on Trailways bus
Two night's accommodation @ 5 star hotel in Tyson's Corner
Free breakfast buffet @ hotel for both mornings
Bus transportation to nearby Metro stop for travel to Rally
Reservations made at time of payment.
Contact Laura Tomell @ lenawee912@yahoo.com or call 517-423-4600
—
Added 09-08 below
We have a bus leaving Midland, stopping in Flint and Ann Arbor. It leaves very late Friday night picking up at 12:30 a.m. and 1:30 a.m. in Flint/Ann Arbor. We will stay in VA (Tysons Corners) on Sat. go to the event on Sunday and travel home Sunday eve. to be back in MI by 6 a.m. on Monday a.m. Prices are from $130 to $195. I need to fill 20 seats today or cancel the bus. If you'd like to go please email me at tlchyatt@tm.net or call (989)631-2052. Leave a message if I don't answer and I'll get back to you ASAP. Come on fellow Patriots – we're needed in D.C. to show the tea party folks are still a force to be reckoned with!
Tammy Hyatt
tlchyatt@tm.net
(989)631-2052