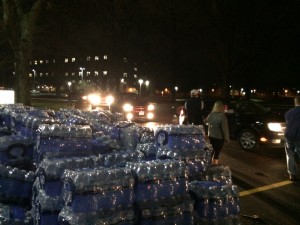 Kudos to the AFP team for help a neighbor in need.
Yesterday, AFP Foundation sent 2000 cases of water and staff members to West Virginia to help with relief efforts. They are urging members to donate to the American Red Cross to assist with the efforts.
And then an email sent out today reads:
I need your help.

A few days ago, there was a terrible incident in West Virginia, which has left more than 300,000 of our fellow citizens without safe, useable water. The water in the nine affected counties isn't even safe after boiling! Currently there isn't a timeline for when the water will be safe again.

There are thousands of suffering families, young mothers, and elderly folks who need your help. Fortunately, Americans have a great history of coming together during times of emergency to help those in need. This is one of those times. AFP Foundation, our sister organization, has already sent additional staff loaded with clean water and supplies into West Virginia to help with relief efforts, and hope you'll help us bring aid to those in need.

Here are some ways you can help:

Donate to our friends at the American Red Cross.

Send supplies, such as water, baby wipes, and hand sanitizer to:
113 Lakeview Drive, Charleston, WV 25313

Many of our state chapters have begun putting together relief kits to send to West Virginia. Please contact your state director, or email us at info@afphq.org and we'll get you in touch with the best person.

There were no warnings for this disaster. There was no time to prepare once the emergency struck. Experts suggest that the best way to prepare is with a 72-hour kit that includes water, food, and toiletries. As much as we hope it doesn't, an unexpected emergency could happen anywhere, so please take the time today to set aside enough supplies for you and your family for at least 72 hours. For more information on how you can prepare you and your family for emergencies, go here.

Thank you for all you do to help your fellow Americans. I know the citizens of West Virginia will appreciate your assistance.

Sincerely,

AFP President Tim Phillips

P.S. Send an email to info@afphq.org, and we'll let you know what supplies are needed in West Virginia.