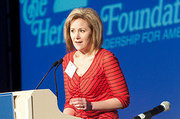 Kathy Hoekstra is rustling up a few more guests for the Frank Beckmann show today on WJR.
Some of the guests will include Mike Reno,  Linda Jolicoeur, with the Michigan Fair Tax Association, and past president of the NAWBO National Association of Women Business Owners of Greater Detroit, who will discuss the role women play in America's economic future and the effect Governor Snyder's tax reform will have on their Michigan businesses, Stephen Henderson, Detroit Free Press op ed columnist and editorial page editor, and Congressman Dave Camp.
The show streams live at 9:00AM.