Some recent headlines seen in the wake of the murderous rampage of that punk in AZ.  After being attacked by media and politicos for 4 days as responsible for the shooters crazed actions, Sarah Palin made the decision to answer such attacks.
MSNBC – On Tucson and politics, Palin plays by own rules
Philly Enquirer – Palin stirs anew on rhetoric
The Atlantic – Sarah Palin Accuses Press of 'Blood Libel'
Did you happen to see that video?  If not, then take the few minutes to do so.  In the aftermath of a violent act by what appears to be a schizophrenic maniac, the coarsening of our national debate is hardly done by the former Alaskan governor.
Then, find the video of our president Barack Obama speaking at the memorial service yesterday.  The speech itself not terribly bad, with some expected undertones.  Indeed he referred to 'rhetoric' as a cause for this assault on the congressman and citizens, and leading up to it, he also argued in ways that suggested the rhetoric from the 'right' might be cause for such things.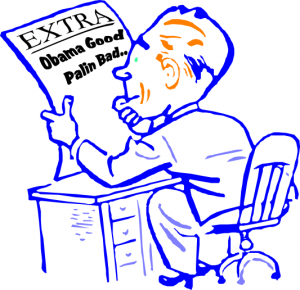 His willing sycophants in the MSM as usual have been capitulating nicely.  Even when the shooters motives are not completely known, it has been made quite clear he shares no love for the right, and has no conservative underpinnings.  Yet such non sequiturs are merely parlayed into supportive headlines as seen below.
MSNBC – Obama urges country to heal after Arizona shooting
Philly Enquirer – President calls for unity and debate "in a way that heals, not … that wounds."
The Atlantic – Obama's Speech: A Memorial That Will Live in Memory
A couple of questions to be asked: Why would the defense of one's reputation be thought of as accusatory, or stirring of new rhetoric?  And why would one who perpetuated the original accusations that Palin and conservative pundits faced be given not only a pass, but a glorified and testicularly challenged attaboy?
Just curious.