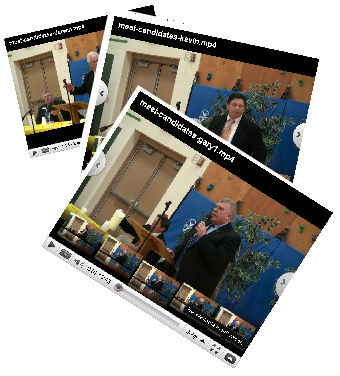 I will be videotaping the following event, and posting here when finished.
CANDIDATE FORUM IN ALDEN
Candidates for the 1st Congressional District, the State 37th District and the State House of Representatives have been invited to attend the Antrim County Bi-Partisan Meet the Candidate Forum, sponsored by the Elk Rapids News and WMKT 1270 AM / 92.1 FM Radio being held on Wednesday, July 14th from 7 – 9:30 p.m. at the Helena Township Community Center located at 8751 Helena Road, Alden. Greg Marshall of WMKT will be the moderator and broadcast the event.
Candidates will be called to speak in alphabetical order. Congressional candidates will be the first to speak, followed by the 37th District, and then the105th District candidates. Each will be allotted at least three minutes to introduce themselves and make a position statement before any questions begin. Written questions solicited from the audience and readers of the Elk Rapids News will be read by Mr. Marshall. A minimum of at least seven minutes of question and answer time will be allotted each candidate, with final determination of time allowed based on the number of candidates attending.
Congressional candidates, Patrick Donlon, Don Hooper and Tom Stillings, will be attending the forum. Dan Benishek will not.  Jason Allen the state senator will attend, while the campaign manager for candidate Gary McDowell replied they are "considering the invitation."  We hope to see them all.
Bob Carr and Randy Bishop, running for the State 37th District, will be attending. Howard Walker's campaign manager is checking his schedule.
All candidates for State Representative in the 105th District including Barry Anderson, Tim Boyko, Triston Cole, Greg A. Dean, Kenneth R. Glasser, Dennis Lennox and Greg MacMaster will be attending.
Candidates will be asked to stay on topic and refrain from making disparaging comments about fellow candidates. Readers are invited to send suggested questions directly to Organizer Priscilla Miller, at priscilla@chartermi.net