Saturday was a busy day..  It started early and had to do with a lot of travel.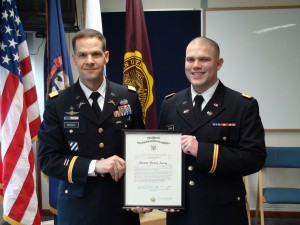 First we trekked to Mount Pleasant for a couple of events that are milestones in a person's life.  At least a person who goes to college for several years, and also uses that opportunity to better himself for the sake of the country.
As many of you know, my son Jason II, has been attending CMU and has also been a part of what is know as the military science program there.  That program more commonly referred to as ROTC found itself four graduates, and four new officers to commission in service to this country.  Four new Second Lieutenants.
Jason was one of those.
And Candy and  I couldn't be more proud.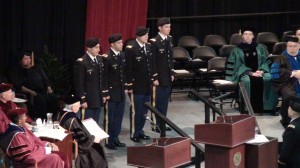 The picture shown above  right is him with a CMU Alumnus who had met Jason during his Fort Knox basic training a couple years ago.  Colonel Nussio traveled from his current assignment in DC to make the event.
After the official commissioning, was the December graduation ceremonies for CMU where the four new officers went through a part of the ceremony again, and received a standing ovation.  The December graduating class was about 1200 split into three sessions.
As late afternoon arrived, so did a wet foggy blanket with high humidity and a sense we had better get moving if we were going to make it to our next destination: Grand Rapids.  We bid our farewells to Jason and his lovely bride, and proceeded to make the travel westward.
The church ceremony for RightMichigan.com founder Nick DeLeeuw and Sarah Cook's wedding must have been nice, but Candy and I arrived only in time to see people assembling at the exits.  Wasting no time, we headed over to the reception location we discovered through our underground network of informants.  It was a nice little hole in the wall on 28th street called the bluff.  Tucked away behind a non descript strip mall with a set up that screamed wedding receptions only.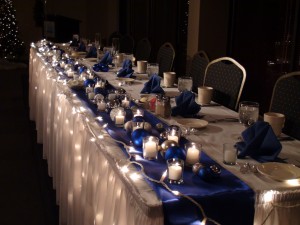 We were first on the scene, and found a nice set up waiting for the wedding party.
26 tables throughout the room with a list of mostly family assignments, a couple of associates and closest friends, and us.  Well..  We found a couple of empty seats on the 26th table.  And by golly if it wasn't closest to the food!  The food..  which was top notch.
The entertainment was as well.
One of Nick's 5,000 (or so) siblings presented a 'roast' style toast to the bride and groom that had me rolling, and in tears. I was told afterward, that he was a writer as well.  No surprise.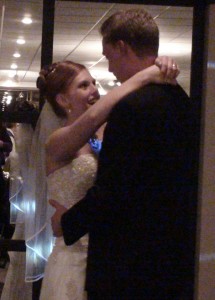 I have several pictures of the event as any good and responsible party crasher might, but  my favorite is the grainy one that captures the essence of the affair.
Before Candy and I were to brave the blizzard on our return home, we witnessed the first dance.
A happier newlywed couple I have not seen.