If you have not yet had the opportunity to get over to Capitol Confidential, now is as good a time as any. With original reporting spawned by research of the Mackinac Center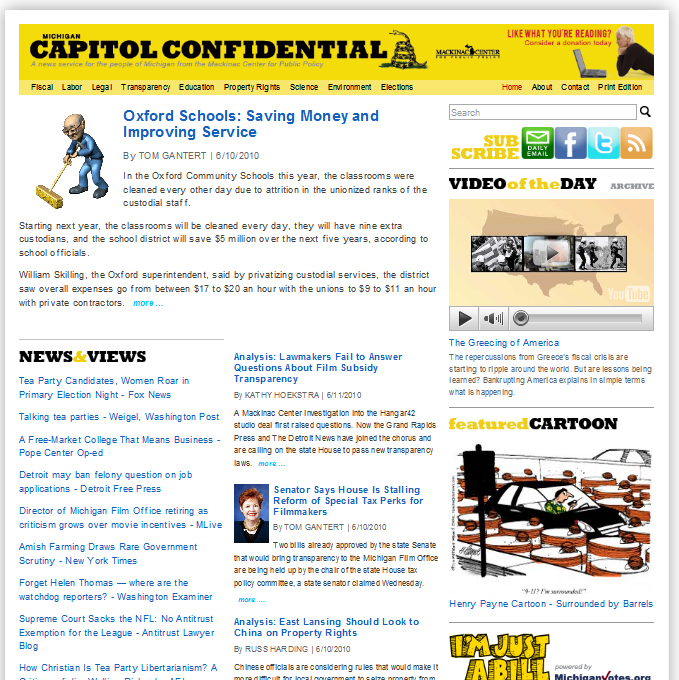 and other leading news sources around the state, the Cap Con is an invaluable and unique place to start your daily reading.
Loaded with content and links to policy articles that put a little insight into what might otherwise be dry information, Cap Con editors select the very best of the web and Mackinac studies.  Every now and again, even THIS lowly writer has made the grade onto the featured side list.
Recently, hot issues have been the Michigan film Credit abuses, MEDC viability issues, the Oxford schools successes, and the sudden popularity of the Overton Window theory of political possibility. (Indeed a Mackinac favorite as it involves of of their late great scholars)
Another frequent treat would be the Henry Payne cartoon series.  Henry Payne, Illustrator, columnist and opinion writer often found on the pages of the Detroit News provides a humorous perspective to Michigan political scene.
The Video of the day can be anything from  a lesson in economics, to a simple but poignant look at how we have found ourselves with raging deficits, and social uneasiness.
certainly, whether you are looking for updates from Mackinac Center investigations, or original artwork or video links discussing politics and policy, the Capitol Confidential is THE place to look.  It has been a first stop for this writer every day.